Women's Groups Opposition to Conscription
he role of womens' groups and leaders was a crucial one throughout the anti-conscription campaigns leading up to each referendum. One of the most vocal was the Women's Peace Army, formed three days after the war started, and led by Vida Goldstein (President), Adela Pankhurst (Secretary) and Cecilia John (Organiser). Another was the Women's International League for Peace and Freedom (WILPF). A third was the Labor Women's Anti-Conscription Committee which organized meetings at factories and workplaces.
Adela Pankhurst was the youngest of the famous suffragette family and arrived in Melbourne in March 1914 after a conflict within her family. She quickly became, alongside fellow suffragette, Vida Goldstein, an eloquent speaker against the war and conscription, and supported the pacifist campaigns of the Australian Peace Alliance, led by Robert Ross. Adela Pankhurst travelled widely to speak out about the cruelty of the war and the impact on women, receiving media attention across the country and with meetings often broken up by pro-war soldiers, and was later to be gaoled in Pentridge from October 9 1917 to January 10th 1918 for demonstrations and anti-Hughes statements.[26]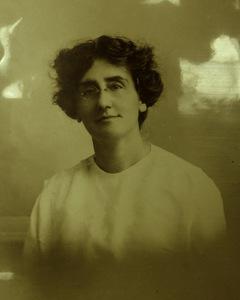 WILPF's Eleanor Moore was equally eloquent and effective in her appeal to fellow women, "Conscription and Women's Loyalty" in which she affirmed "I am a woman. I know that the idea of lasting peace can be gained by war is nonsense…I know that, however long the fight continues, in the end it must be settled by negotiation…I am a woman. I know that everywhere and always, when men make war on men, the sufferings of such as myself are indescribably horrible…for this reason I will not sanction the war system by forcing any man to be a soldier".[27] Yet another woman leader in the anti-conscription campaign was Julia (Bella) Guerin. Bella was the first woman to graduate from an Australian university, became the Principal of Brunswick Girls High School, and led the Labor Women's Anti-conscription Fellowship campaign in the lead up to the 1916 Referendum. Anti-conscription women's groups and activists reached out to women in both middle class and working class milieus. Bertha Walker notes that "Women in Australia had never before participated in large numbers in any social movement" and were inspired by the suffragettes in England.[28] A week before the 2016 Referenda, women held their own several-thousand strong march against conscription.